Home : Photos : 2002 Comic Con
---
Comic Con 2002 Pictures
Hi all, these are the pics I took at the 2002 Comic Con. Lots of cosplay pictures, but also a ton of other stuff, thinks like panels and movie stars, yay! I'll do the best I can to caption everything. Enjoy. :)

I had two costumes for this con. My standard Squall from Final Fantasy VIII and my new one, Johnny from Dance Dance Revolution. Unfortunately, only a couple of people recognized me as him. I was mistaken for a blond Elvis, which is normal, just look at the hair! :) Johnny Bravo and some guy named y2khai, whoever that is. Oh well, I guess there weren't too many DDR players at the con. :)

Though I must say I did get a lot of attention for my costume. :D I sort of have this theory about cosplaying. Because I'm a guy, I'm already at a disadvantage at costuming, just because a lot of the cool costumes are for women, at least I think so. So in order to balance out this, you have to go BIG! With Squall I have a big gunsword and with Johnny I have big hair. It seems to work. ;)
| | |
| --- | --- |
| | |
| The nice family that put up with us for 4 days. How the heck do they do it! Hell, I got sick of myself after 3 days! :D | My friends who came with me to Comic Con. One cosplaying and another who soon will be. ;) Check out her site. |
She was at the Galatic Gladiators booth. She was so shiny you couldn't miss her. Our outfits sorta matched, don't you think? Ok, no they don't. Did I mention she was shiny? :) I don't even wanna know what happened to the guy in the glass tube in the background.
This was cool. I was just walking by, and this beautiful woman signing autographs waves at me and wants me to come over. Woohoo! :) Her name is Aiko Tanaka. She said she was going to put this picture up on her web site, I'll keep an eye out for it.
This was from the San Diego Asian Film Festival booth.
To bad I won't be able to make it. I'm telling you, it's the hair. ;)
This is my Squall costume with my brand new Gunsword! :)
Yah I suck when I'm sandwiched between Rei (Neon Genesis) and Chun Li (Street Fighter).
This is Mark Setrakian of Battle Bots fame. I was just lingering at The Tick booth and there he was. :) Talked a little bit about his robots. It was neat. :)
The geeks from Beat The Geeks
It's Adam Sessler from TechTV's Extended Play. It's a video game review show and I catch it every week. He was very cool posted with me for a picture between shots for the show. I think it was his producer who offered to take a picture of the both of us. He was hilarious, he kept saying, "This is Oscar! This is Oscar!" Great guy.
| | | |
| --- | --- | --- |
| | | |
| Yay! I found Rinoa! Her friend is from FF9, but that's ok. ;) | Hmm, there's something just wrong: Final Fantasy characters and Star Wars characters. ;) | This is me with two friends who went with me to ComicCon and a great Storm Trooper cosplayer. |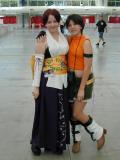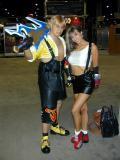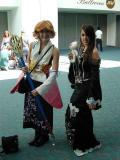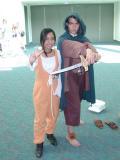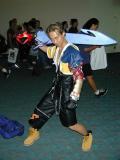 Some more Final Fantasy cosplayers
| | |
| --- | --- |
| | |
| Cloud and Yuffie from Final Fantasy VII. Great costumes, not only that, they gave me some tips on how to improve my gunblade. Like where to get the shiny material the used for their weapons. Thanks girls! | Artbook Karen Kasumi. Very pretty dress. |
| | |
| --- | --- |
| | |
| This is the first cosplay photo I took as I was walking into the convention center the first day! :) A group of Oh! My Goddess cosplayers. | Here's Urd with Hamtaro |
| | |
| Look it's Moe's Bar! | Stephen Chow was signing autographs and promoting Shaolin Soccer |

What's Urd doing with my Gunsword. :P Yes, that is Urd from Oh! My Goddess. That was what she wore in the manga, "The Devil in Miss Urd."


It looks like shiny things attract shiny things, who knew?
What's a con without a ton of Star Wars costumers!
Look the entire family from Star Wars! It was great. You can't see it in the picture, but there's actually a baby stroller behind them. I don't think the baby was dressed up. :)
These have to be the funniest costumes I saw all weekend. :D
---
Home : Photos : Comic Con 2002 Pictures